Celebrate Lansing area authors at our 2015 Local Author Fair on Tuesday, April 14, 6-7:30 p.m.
Lansing area authors will be on hand to discuss and sign their books. Find out about all the great books being published in the Lansing area! If you are an author and would like to be involved in the event please fill out the Entry Form on the right.
Check back often to see which local authors will be attending the event:
Andrew Grace & Jennifer Innes
Full of Whit Series
Book One: "The Beginning of Whit." Whit Clayborne, a fledgling demon hunter, is painfully unaware of the supernatural creatures that surround him. What follows is a rowdy tale where myth meets reality and hilarity ensues.
Jennifer Innes completed a BA in English from Michigan State University and a MAIS from Western New Mexico University focusing on English and History. Her blog can be found at: www.fanwritunit.blogspot.com and she can also be found on twitter at:https://twitter.com/TheLameUnicorn
Andrew G is the second half of the Jennifer and Andrew writing duo. When hes not writing funny stories (some of which can be found at www.donrigger.blogspot.com) he reads, watches television or plays with his cats.
https://www.facebook.com/JenniferInnesAndrewGrace/info?tab=page_info
Jordan VanZwoll
Jennifer's World
Eleven-year-old Jennifer Corretor loves to read and write. Most of her life she has been writing. But one day she wakes up to find herself surrounded by characters from her books. They tell her that she is the only one who can save them. If she can't save them, how can she write about new characters and put them at risk? Her future is being tested by fictional fairy tales that she wrote. Will she change her destiny?
Amy Meets the Boulder King
Amy is just an ordinary girl, but will she save the world? There is a legend that everyone has heard, except Amy. She will figure out the legend and only she knows that the Boulder King is real. This legend is planning to destroy the earth and turn it into his own planet. But how could just one girl save the whole world?
Allison's World
Allison loves to draw. But little does she know, when she creates these drawings, she's creating a whole new world! She also drew a special picture of a character from her favorite childhood book. But boy, does this character turn evil! Allison must use her drawing skills to save this world, but will she be too late?
Website: http://amzn.to/1ijvOfh
Theresa Kilpatrick
So – You've Survived Cancer. Now What?
Over 14,000,000 people have survived cancer and as they do, questions arise about what happens after cancer, what the "new normal" looks like.Cancer survivors, their caregivers, and their physicians face many issues once chemotherapy and radiation have ended. At a time when a celebration seems in order, new questions arise. How do you define what a survivor is anyhow? What kinds of things happen after cancer? When will I feel normal again? Why is my parent/spouse or significant other/friend acting this way? What can a physician do to help the cancer survivor and their caregivers?
Many things occur after cancer, and the book details over 50 of these, including attitude, "chemo" brain, dental concerns, diet and nutrition, emotions, health insurance and medical bills, long-term radiation after-effects, sex after cancer, spirituality, and weight gain or loss. In addition, there are chapters concerning childhood and cancer, cancer and stem cell research, suggestions for care at the end of life, the 9 reasons why cancer is a gift, types of cancer, and cancer and cancer survivor websites for further information.
Website: http://soyouvesurvivedcancer.com
Writing at the Ledges
Voice from the Ledges
Third anthology of poetry, essays and short stories by the Grand Ledge based writing group. Writing at the Ledges was established in 2005. In October 2008, the group published its first anthology, Small Towns: A Map in Words, and their second anthology, Seasons of Life, came out in January 2011. Both books are in their second printing.
Seasons of Life
Seasons of Life is about the changes we all go through in this journey known as life, from birth and childhood, "Spring," to the end of our time here on Earth, "Winter," and the "seasons" in-between that make up the tapestry of our existence.
Small Towns: A Map in Words
Small Towns is a wonderful collection of short stories, poems and essays celebrating life in one of the many small communities that make up the landscape of the United States.
This anthology showcases the talent of 14 Michigan authors in 52 unique pieces, including a 'murder mystery romance' novella set in Grand Ledge, Michigan.
Website: http://writingattheledges.com
Inge Logenburg Kyler
Mrs. Kyler lives in an old farm house, 18 acres, with my husband of 60 years, 1 dog, 1 cat and (as of last night–after a chicken coop disaster from varmints–) 1 chicken!  She is a long time member and past president (twice) of the Poetry Society of Michigan.  Still historian. She is a docent at the State Historical Museum in Lansing (over 20 years);  a volunteer docent at the Woldumar Nature Center;   one of the founders of the Holt/Delhi Historical Society; retired in 1998 from Delhi Charter Township (was assistant township manager);  was a planning commissioner 9 years for Windsor Township. She was commissioned in 2013 by Arcadia Publishing to write Holt and Delhi Township, a pictorial history book. She is currently finishing up a book "Stories for Lilah", which is dedicated to her newest great granddaughter.  It will contain stories and poems written over the years.
She is a prize winning poet (maybe 24 books of poetry published), widely published, am a poetry judge,  and for over twenty years she has been writing a column for Eaton Rapid's Flashes newspaper.  Widely traveled.  Enjoy the outdoors, hiking, gardening, and Lake Michigan!
L. R. Ballard
Legend of the Stone
In this future the world has been destroyed by are own hands during the apocalypse war. The year is 3022, infant space age technology has developed as we were forced to move to the moon. Only getting water from chemical contaminated water from earth. This might be our future, the realistic direction of our society and social problems may have some insight to a further future. A science fiction story like not many others.
http://www.loservilleengineering.com/home.html
Ed Kaiser
Laughing at Life
Michigan writers contest award winner. I am as comfortable with "on stage" acting and monologues as I am in bantering with strangers.book is a collection of 30 short, humorous, stories from my life experiences.  It is a compilation extracted from 15 years of authoring "Friday Frivolity" to an e-mail and facebook distribution.
http://www.buttonwoodpress.com/#!edkaiseer/c1zb3
Janet Kay Darling
Timeless Love of Twin Souls
This remarkable story tells of two people, Ron and Janet who not only found each other in this lifetime but were also together in a previous and very dramatic lifetime while being caught up in the revolutionary war which ultimately gave birth to the USA of today. Through following their experiences, trials, traumas and triumphs, plus journeys into the afterlife, you will learn more about not only how they discovered themselves to be twin souls but how important this whole subject is and what it means to you.
http://www.thornepublishing.com/books.html
Kristine E. Brickey
Kristine E. Brickey lives in a small Michigan town with her husband, two dogs, donkeys, and her horse. The mother of two, she has also spent twenty-six years teaching children in the public school system—nine years in elementary and seventeen in middle school, with a focus on language arts.
Brickey holds a master's degree in reading and is particularly interested in working with boys and literacy issues. She is always looking for ways to encourage young writers as well as young readers and started a middle school writing club to promote opportunities for her students.
Inspired by a conversation with her son, Brickey wrote the candid and poignant YA novel Flowers for Rodney to inspire teens and start an honest conversation that parents can engage in with their children.
http://www.kristineebrickey.com/
Phil Kline
Phil Kline is the author of Growing Old Ungracefully which tells of the bad things that doctors told him about for $5.00 a word and which most of us can look forward to. The other one is a novel, One Helluva Soldier, based on stories of friends who served in the Korean War, three of whom became prisoners of the North Koreans.
Jonathan Stars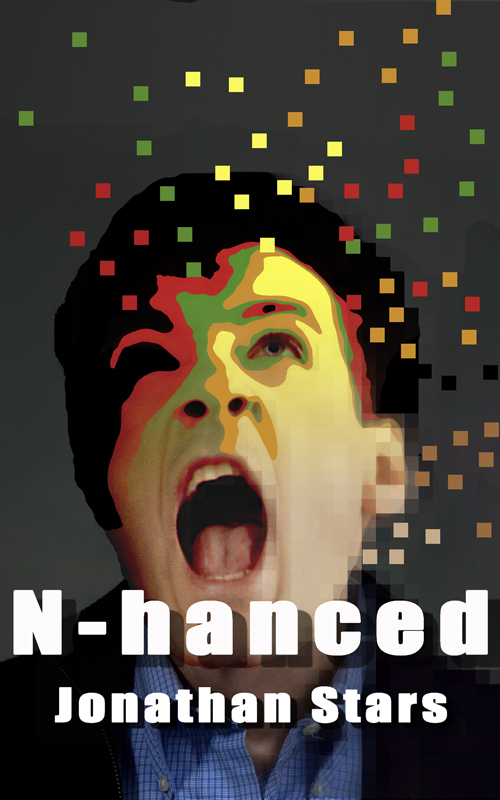 N-hanced
The year is 2035 and Charlie Noble invents N-hanced, an app for nano computers in the human brain. It promises to bring hope and prosperity to the downtrodden by making users instant experts on any subject. It will also free Charlie from his personal demons. While still in the testing phase, some of his volunteers commit suicide under mysterious circumstances. Before Charlie can find out whether the problem is his software, corporate espionage or something else entirely, the board terminates his project. Accused of negligent homicide, Charlie flees government agents who threaten his life. In desperation he turns to his estranged friend, Jeff, who has abandoned all things high tech and is against everything Charlie stands for. Jeff is Charlie's last hope to help save him from disgrace and a life in prison—and to put N-hanced back on track to changing the world.
Doryn Adel Roy

Have you ever wondered why you are here? Or, considered what you were designed to do? You are not alone. Few people know what they are created to do, and few pursue their purpose with passion. Discovering your purpose can be mysterious and challenging, but it is also a time for tremendous spiritual growth.
Doryn Adel Roy began her journey in pursuit of her purpose years ago in her native Birmingham, England. She is a Licensed Professional Counselor as well as a college educator, motivational speaker, published author, radio host, and documentary producer.
Judith Wade
The Secret of Mermaid Island
Bonnie Campbell vows to make the best of a summer spent away from her school friends on remote Mermaid Island. Things get more interesting when Bonnie discovers the island is the home of a famous celebrity, but as time passes she begins to suspect that Mermaid Island may hold an even bigger secret. Is it possible the island has a real mermaid? Bonnie and her friends return in The Mermaid's Gift and Mermaid Dreams, both by Judith Wade. Also from Judith Wade – Faelen, The Horse from the Sea. NEW – A Mermaid in Whitecap Bay.
https://www.facebook.com/mermaidislandbooks/notes
M.j. Simon
Ghosts. Whimsy. Enchanted lands never before encountered. The occasional serial killer. All against the backdrop of the expansive Lake Michigan shore. Accompany novelist M.J. Simon down her own personal rabbit hole into secret worlds and along winding pathways of mystics, murderers, and courageous, if colorful, heroes. Hope you have loads of fun along the way.
Shadow's Embrace

A young woman drowns mysteriously. More than a century later, the mystery surrounding her death continues to haunt a small lakeside community. Ghostly manifestations and psychic disturbances emanate from the dead woman's house. A house Maggie King has inherited. Maggie doesn't know what to believe. A tall, dark, handsome dead man prowls the corridors of the rambling old house in search of his lost love. Dangerous ghost or deadly hoax? Jack Steele, a local psychologist and student of the paranormal, wants full access to Maggie's inheritance. Prime suspect perhaps, but the attraction between the two is immediate and strong. Suspense builds as past and present merge and the line between the living and the dead grows ever fainter.
Colleen Nye
In 2008, Colleen collaborated with her friend, Carrie Peterson, about a dream Carrie had one night. This dream became part of the opening sequence for Colleen's novel, When In Maui. Carrie's dream and her friendship helped Colleen shape When In Maui into Colleen's first full length novel, published in 2012.
In 2013-14, she wrote a tech thriller, Immersion. Signing it with Anchor Group Publishing and released 2015. A story she's anxious to see reach a wider audience. Anchor Group also picked up When in Maui, an opportunity Colleen is very excited to see develop.
Colleen currently lives in Michigan with her two daughters – a budding chef and an aspiring free spirit that rivals her own inner gypsy. She is teaching writing classes locally. Her next novel? She's working on a few projects and anxious to share them with you all.
William Murphy
Three editions of Motorcycling Across Michigan took motorcyclists down scenic country roads and through small forgotten towns. But that was then and this is now. A new book, Ride Michigan, released in November 2014, has replaced the venerable MCXMI. Some of the best content has been retained, updated and improved of course, but there is a great deal that is new and improved. New and expanded rides covering all areas of the state. 34 chapters of information and fun reading. Whether you're a casual rider or a serious long distance touring biker, a resident or non-resident, Ride Michigan is a must if you ride or desire some day to ride a motorcycle in the beautiful state of Michigan. Books ordered from this web site are signed by the author, and dedicated as desired by the purchaser. Signed and dedicated books make wonderful presents – especially to yourself!
http://www.booksbywilliammurphy.com/
Martha Bloomfield
Martha Bloomfield is an author, oral historian, artist and photographer, who specializes in sharing stories of marginalized peoples. She retired from the Michigan Historical Museum where she curated an exhibit on Michigan's immigrants and migrants and developed educational historical programs for adjudicated youth, homeless adults and children.
She coauthored THE SWEETNESS OF FREEDOM, Stories of Immigrants (2010) with Steve Ostrander. She has written, MY EYES FEEL THEY NEED TO CRY, Stories from the Formerly Homeless, (2013) and HMONG AMERICANS IN MICHIGAN (2014). Michigan State University Press has published all of them.
She has traveled widely often for extensive periods to Ethiopia, Israel, Bulgaria, the Czech Republic, Bosnia and Western Europe. She is married to Alan Bloomfield and is Betty Soffin's daughter-in-law. Her two sons, Avi and Simi, each work in marketing and sales in Los Angeles and Brooklyn.
http://msupress.org/books/book/?id=50-1D0-3459#.VP8vHI6Uzm6
Mary Morgan
Mary has a passion for traveling, especially to National Parks. She has visited forty-five parks, exploring and photographing each one. She shares "America's best idea" with children through facts and mysterious adventures, hoping to create in them a desire to explore the parks for themselves.
In her latest book, Snow Den at Yellowstone, Ben and Bekka Cooper find themselves entangled in more than chills and spills on ski trails while spending Christmas vacation at Old Faithful Snow Lodge in Yellowstone National Park. In the face of danger and freezing temperatures, the trio of sleuths save the day for an injured friend, and foil the plot of villains to leave their mark on our first National Park.
http://www.nationalparkmysteries.com/
Jolene Witt
Jolene Witt is a writer and a reader, a wife and a
mother. She loves living on the family farm with her husband, Dan, where for the past 25 years they've watched their crops and three daughters grow. Shocked by how quickly life was moving them forward, Jolene felt compelled to take each of her girls on a special mother-daughter rite of passage before they left for college.
Rooted Together is the true story of the cross-country adventure she took with her oldest daughter, Cote, to climb and sleep in 250' trees on the Oregon coast. With her girls now grown and two more mother-daughter trips behind her—Jolene hopes that more books are waiting down the road!
http://rootedtogether-jolenewitt.blogspot.com/